There's an easy way to refresh your bathroom and that's with bathroom accessory sets. You can choose sets that blend in with your existing colour schemes, or ones that brighten up the space. For example, pick a bathroom accessory set with a few bold colours and then pick out one to furnish the rest of the bathroom.
Here are our recommendations:
George Asda -Diamante Bathroom Accessories Range: from £3.50
You buy these separately and they start from £3.50 for the tumbler, £5 for the soap dispenser and £9 for the toilet brush. Great value and good quality from Asda.
Blue Canyon Aria Bath Accessory Set White 4 Piece: £15.93
This bathroom accessory set is perfect for a guest or ensuite bathroom where you don't need every item in a set. Compact and easy to clean, it takes up little space too.
Wenko Pebble Stone Grey Bathroom Accessories Set: £59.95
What we like about this set is that there are additional products in the range, including a towel stand and a standing WC set. This accessory set is made from a durable polyresin with a stone-effect finish and chrome metalwork.
Axentia Rio Set of 4 Bathroom Accessories Ceramic: £13.47
Pick a colour any colour and match it with accessories such as towels and bathmats. This bathroom accessory set really brightens up any bathroom.
Eau De Cologne Tumbler & Dispenser: £8.95

This set of a soap dispenser and tumbler would suit a shabby-chic design bathroom. We think it is great value considering they are ceramic.
Margo Selby bathroom Accessory Set: from £12.00

This is a stylish set from renowned designer Margo Selby and once you see her extended range you'll be spending all your money on her products. There are four products in this range which starts at a tumbler for £12.
Rome Bathroom Accessories Range: from £12.00 each

We are showing the full range from this brand but you can buy each item individually from £12, which is great if you need just a couple of items. This bathroom accessory set is made from plastic with a marble effect.
Set Of 6 Neptune Bathroom Accessories Copper and Concrete New Design: £67.00

Add a bit of class to your bathroom with this set from Neptune. Made from a concrete material with a copper finish that does not rust.
Mosaic Glass Bathroom Set, Blue: £49.99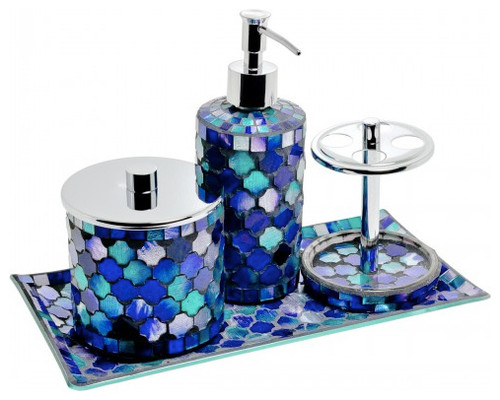 Add a touch of glamour with this bright glass mosaic bathroom set. It is available in this gorgeous blue, black or gold, and you can also buy an additional pair of soap dispensers in their own rack to compliment this set.
Croft Ashbourne Bathroom Accessories: from £12.00

Some people don't want fancy colours in their bathroom, they might already have a bright colour scheme so this white set from Croft is ideal. The tumbler and soap dish start at £12 and all the products are ceramic.